"Extending our living spaces into the garden is not really a trend, it's a way of life."
We need this balance of nature to offset our fast-paced lifestyles and technology overload.
The inside, outside trend has been prevalent for some time now. We all crave natural daylight, fresh air and sunshine. Extending our living spaces into the garden is now easier than ever. Pop in and ask about our 'outdoor' products to create your new outside space.
Clever choices of materials and finishes play an important role in making indoor and outdoor spaces link, we aim to match the tone and texture of floor finishes to blend the transition in materials. For example using a herringbone wood flooring, then matching the colour and scale to a tile which can be used externally creates the effect of one continuous floor running from inside to outside.
Exterior furniture and lighting solutions have vastly improved, I'm glad to say we have moved on from the plastic garden set or picnic table. The options are endless and affordable and allow you to create external living spaces with sofa's, rugs and accessories all wrapped up in beautiful perennial fabrics that are weatherproof, resistant to sunlight and can be left outside all year long. Rattan and Lloyd loom-style furniture are popular; this colonial influence is timeless and introduces elegance combined with natural materials and textures.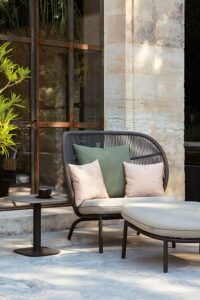 Outdoor kitchens are tipped to be an emerging trend, which is not surprising with warmer climates and the increase in home cooking and outside living. Pop into our Wimbledon garden to see our 'Outdoor kitchen' complete with 'Big Green Egg bbq, built-in Tandoor oven and drawer cool storage which can instantly swap from freezer to fridge function at the touch of a button!